세 교회 연합 예배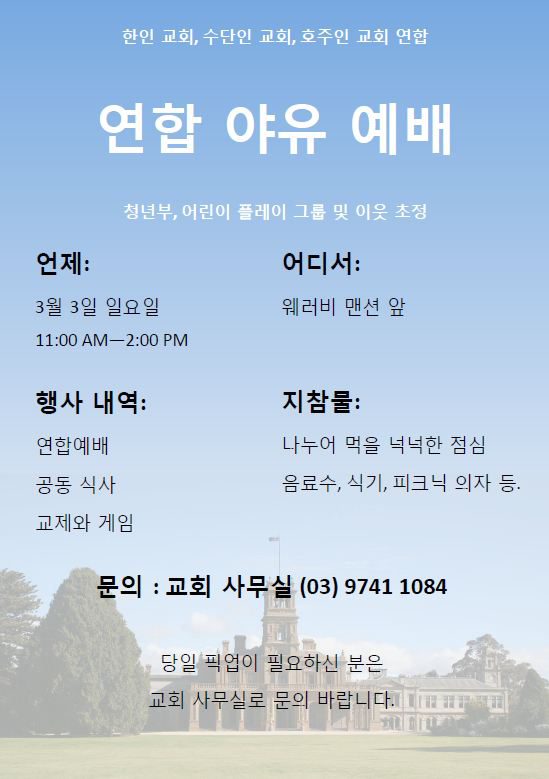 "Our Unity in Christ"
2013년 3월 3일 주일은 멜본서부교회-크로스로드연합교회-수단교회 연합 야외 예배로 드립니다.
날짜 DATE: Sunday 3rd March, 11am – 2pm
장소 VENUE: 웨리비 파크 맨션 앞 잔디밭 Werribee Park, on the lawn area in front of the Mansion
프로그램 개요 PROGRAMME OUTLINE:
11am 도착 Arrive
11.15am 예배 Informal worship
11.15am 공동 식사 및 친교 Shared lunch and socialising time
1.00pm 활동 및 게임 Games
2.00pm 정리 Finishing time – 어린이 선물 및 폐회 기도 small gifts for children and ending prayer.
주일 예배 Other worship on the day: 멜본서부교회는 별도의 주일 예배 없습니다. English speaking to discuss at church council and decide. Sudanese to decide.
공동 식사 Shared Lunch : 각 가정 별로 준비 / 일회용 식기 사용 자제. 자세한 내용은 별도 안내.
교통 TRANSPORT: 별도 공지 Have a contact person from each congregation to contact if required. It is on the bus route.